General information regarding the Fly Puppet
Edit me
Overview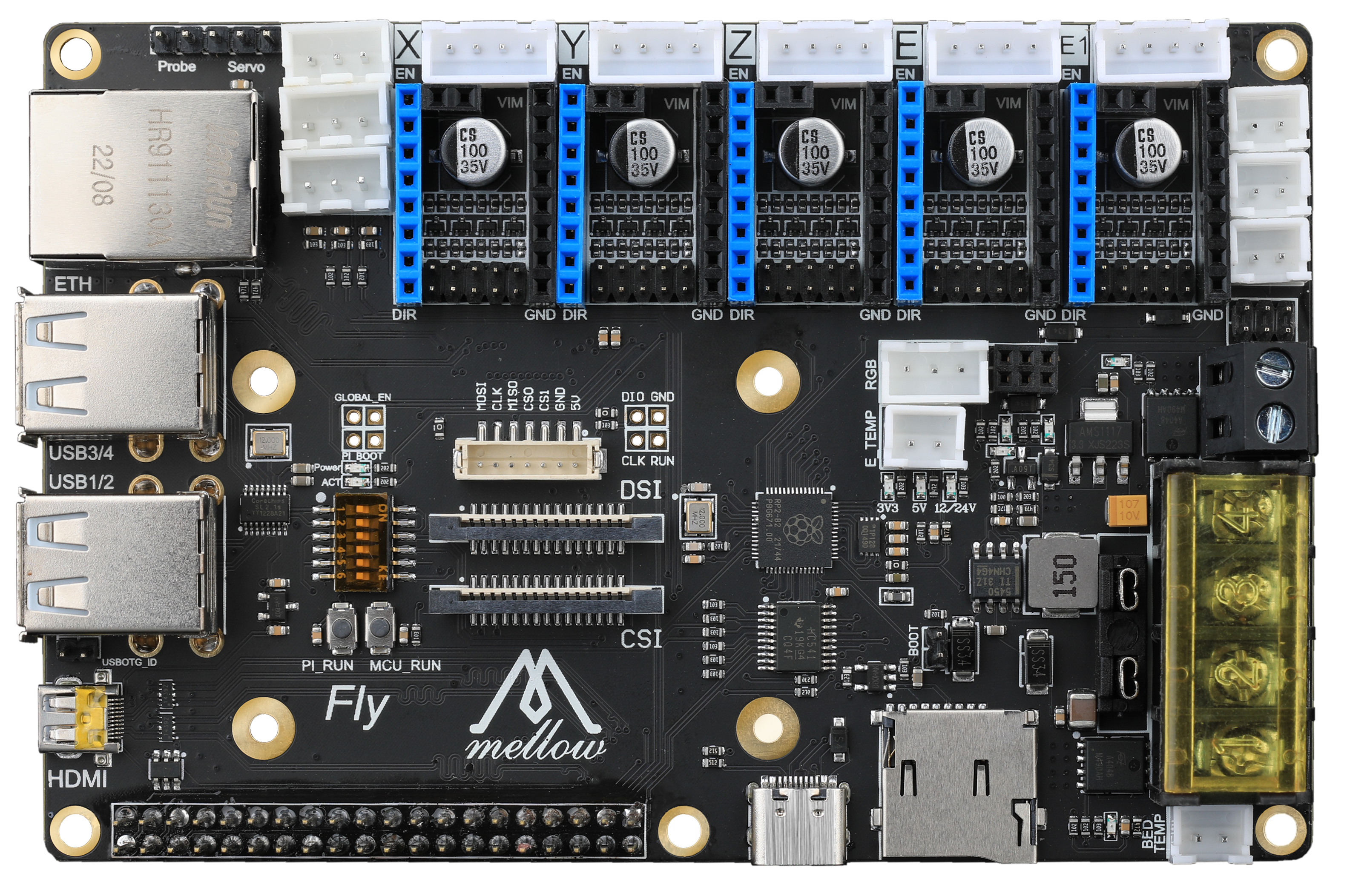 Description
This page covers any general information for the Fly Puppet board.
Avaliable from the Mellow store on Aiexpress
In order to meet the needs of customers using RP2040 5-axis, we made a fly-puppet motherboard. If you use Raspberry Pi cm4, then this motherboard will become an integrated board of Raspberry Pi 4 + 3D printer motherboard, and run klipper firmware directly. At the same time, it can also connect to Fly Pi, Raspberry PI 3/3b/4b through the 40p GPIO header. 5-axis fits most machines on the market today, and it's a very interesting board.
Features
Supports mounting Rasberry Pi CM4, 4B, 3B, 3, and Fly Pi
MCU: RPI RP2040
Communication: UART
12/24V input
3A 5V power supply
Drivers supported: A4988, LV8729, DRV8225, TMC2208, 2209, & 5160
Interfaces
2 CNC Fans with replacable Fly MOS
1 Full power fan
Bed and Hotend Tempreture
RGB LED port
BLtouch port
3 Limit switch inputs
HDMI, CSI, DSI, USB and Ethernet with CM4
Dimensions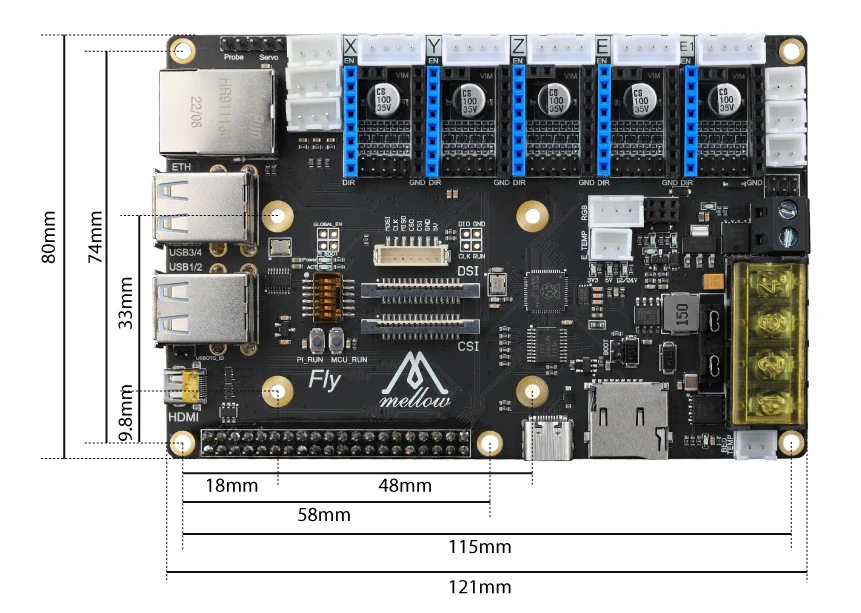 BOM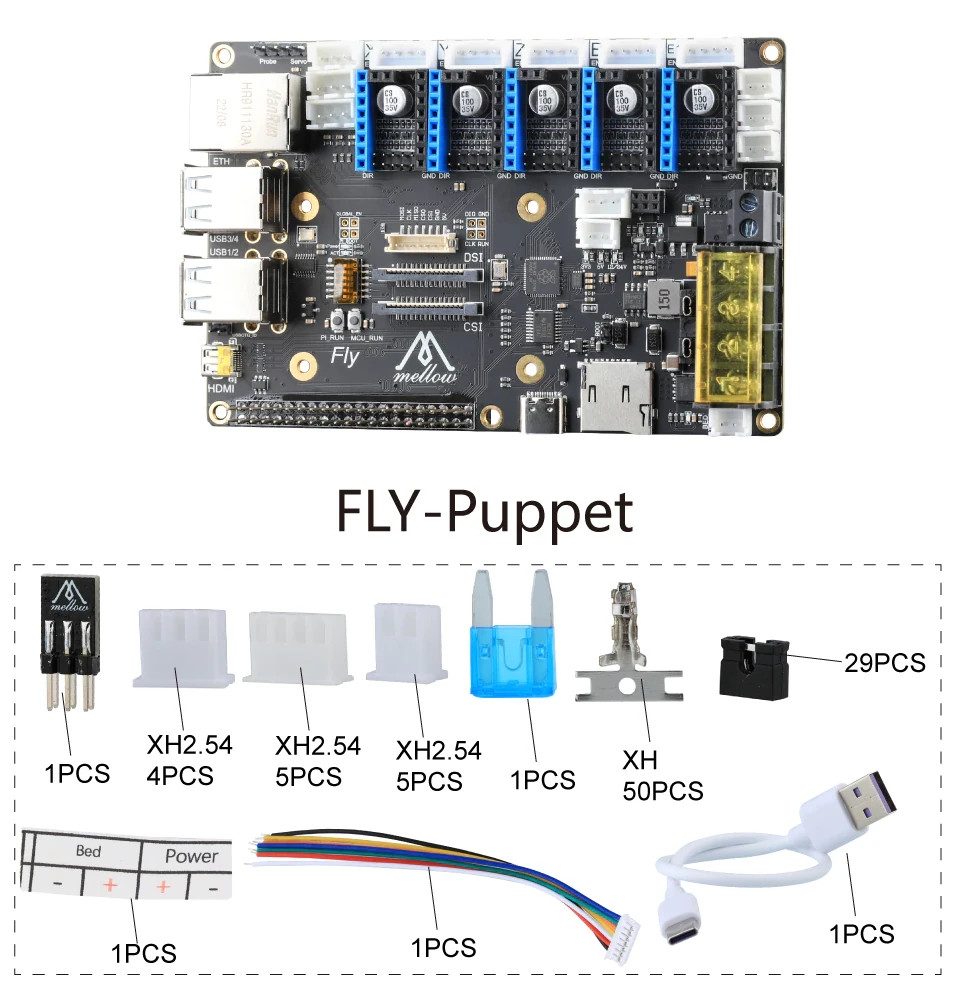 Fly Puppet Board
Fuse
JST-XH connectors and crimp terminals
Fly MOS
USB C Cable
Serial header pigtail
Jumpers
Driver mode and Fan Voltage Jumpers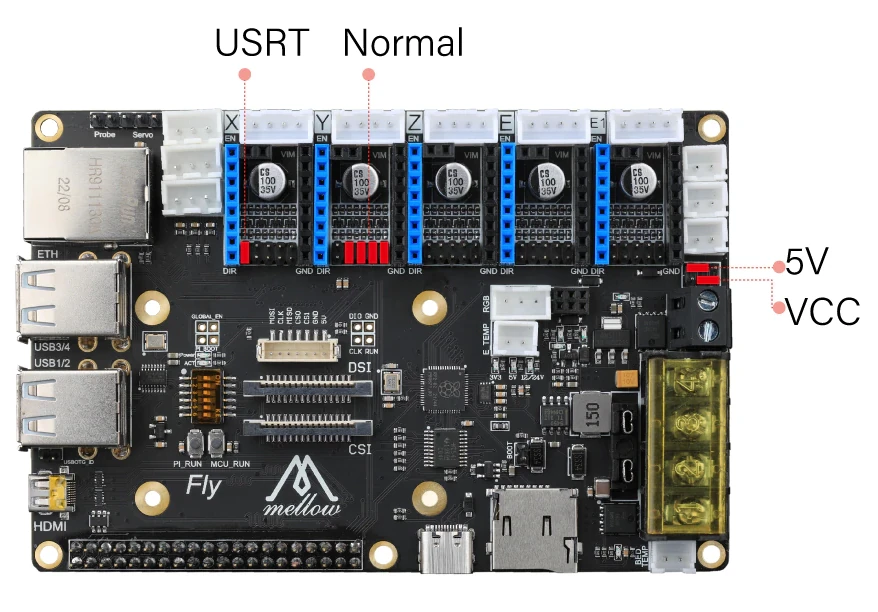 USB DIP Switches
6P DIP switch is used for USB control, all of them are OFF by default.

DIP switches 1 and 2.
ON: Extend the USB of CM4 to the 4 onboard USB ports, they cannot be ON at the same time as switches 5 and 6
DIP switch 3 and 4

ON: Connect the USB of the lower computer RP2040 to the onboard Type-c interface. Cannot be ON with switches 5 and 6 at the same time

DIP switch 5 and 6

ON: Connect the USB of CM4 to the onboard Type-c interface for CM4 EMMC programming. Cannot be ON with switches 1,2,3 and 4 enabled.