General information regarding the Fly-407ZG
Edit me
Overview
This page covers any general information for the Fly-407ZG board.
It is currently available through AliExpress
Description:
32-bit ARM Cortex-M4 series 168 MHz, STM32F407ZGT6 chip
Firmware: Marlin 2.0, Klipper and RRF
Driver support: A4988, LV8729, DRV8825, TMC2208 / 2209, etc.
Drive mode support: TMC: UART / SPI
Support 9 independent motor drives, 6 extruders, 6 controllable fans, 3 uncontrollable fan sockets.
FPC drive expansion socket, can also expand 3 additional stepper motors
Display: serial touch screen, 12864 LCD, 2004 LCD
Supports automatic bed leveling sensor: BLTouch
Supports dual Z-axis printers and three Z-axis printers (the motherboard has a dedicated Z3 limit switch interface).
Supports printer structure: XYZ, kossel, ultimaker, corexy, etc.
Input voltage: DC12V-DC24V
Motor driver interface: X Y Z E0 E1 E2 E3 E4 E5
Temperature sensor interface: B, T0, T1, T2, T3, T4, T5, T6 (MAX6675 chip is not soldered by default) A total of 7 NTC 100K thermistor interfaces and one SPI thermocouple interface
Supports one servo interface and one material detection module interface
Optional limit switch power supply: 5V / 12V / 24V
The hot end heater connector uses screw-free push-type terminals for quick and easy connection.
Heatsinks
The Fly-407ZG is supplied with 2 heatsinks. They should be installed as per the image below.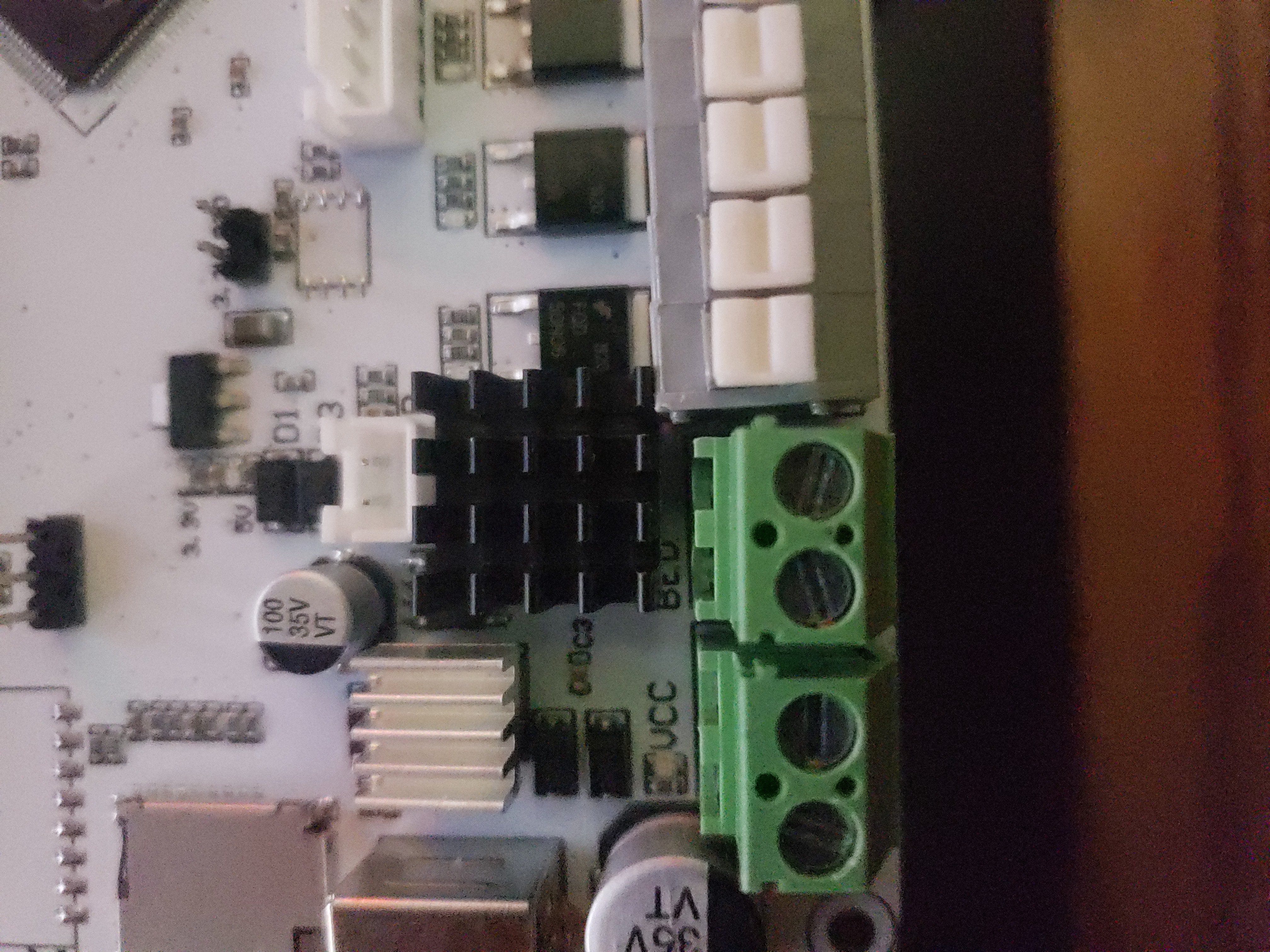 Driver Jumpers
The jumpers should be installed as below. "Common Interpolation" should be used for standalone drivers. "SPI mode Interpolation" is supported for TMC5160 drivers. "UART mode Interpolation" should be used when using smart drivers (i.e. TMC2208, TMC2209, TMC2225 and TMC2226)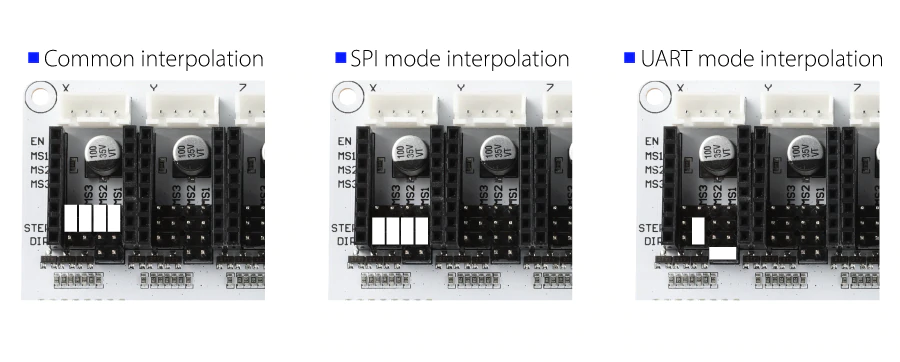 Z motor jumpers
If the Z2 motor socket is not in use install the jumpers as shown.

Input voltage
The board can handle an input voltage up to 32v.
Initial Installation
The board that you will receive doesn't have any firmware installed so when plugged into a computer, the board will show as an unidentified device.
Issues
Some boards shipped are missing the bootloader.
If your board has the Mellow logo on the back and when you place a firmware.bin file on the SD card and it doesn't get converted, then yours is one of these boards.
Follow the guide for restoring the OEM bootloader.
Links